Does Florida's Climate Affect The Health Of A Roof?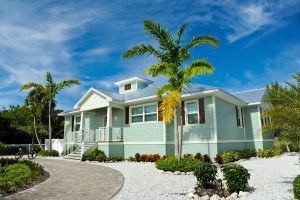 Living in Central Florida certainly has plenty of perks, all the more reason to live here and love it. However, there are some things to know that can be considered drawbacks to living in the Sunshine State, like roofing. We're lucky to maintain warmer temperatures all year long, but the price we pay is having things really heat up during the summertime.
To say that our rooftops get exposed to some intense weather situations would be an understatement. Between extreme UV exposure, unpredictable rain, and steep humidity levels, your home's exterior takes quite a beating.
This shouldn't deter you from making this area your home sweet home, and you can build and be very happy here. It just means it's a good idea to be informed and use smart planning to your advantage.
How The Sunshine State Impacts Your Rooftop
On top of the usual wear and tear, Florida roofing goes through more intense cycles due to sun exposure, humidity levels, and more. Although we're not in a zone that takes direct hits from hurricanes, we're still close enough to feel the effects. All of these factors create unique subtropical conditions.
And sure, rooftops everywhere can be susceptible to warping and cracking, but it's more prevalent in areas with extreme sun exposure. So, as a homeowner, are you doomed to repair and replace your roof constantly? Not if you take precautionary steps like:
Consider using heat-resistant roofing system materials like clay tiles
Pay attention to details like flashing, too - plastic melts and metal doesn't
Ventilation/attic fans play a crucial role in reducing the heat index
Metal roofing is popular because of its longevity and resistance to heat
Stay proactive with inspections and preventative care measures
If you choose something other than metal or clay tiles, like asphalt shingles, it's not impossible to keep it in good shape, but you'll need to be more diligent. Trapped moisture from humidity or tropical storms leads to mold and rot, so you'll need to monitor for that. It's about longevity and the health of your roof, and ACC Roofing is here to help.
Your Local Roofing Heroes
For advice, feedback, and all-around superior roofing service, trust ACC Roofing. We're a local, family-owned business that's been around since 1984 - we know Floria roofing! We also know customer service, and your satisfaction is our top priority.
If you'd like to know more, feel free to give us a call. When it comes to roofing in Central Florida, contact our crew for superior service.
If you are looking for a roofing contractor in Central Florida, then please call 386-668-0750 or complete our